Roland Berger gives EZ Factory a kick-start
The tagline 'Work made easy' is a great summary of EZ Factory's mission. The innovative EZ-GO app simplifies operators' work and boosts productivity. This user-friendly tool provides solutions for the most pressing challenges facing the manufacturing industry. Customers are already loving it. And the company's future? It's looking bright!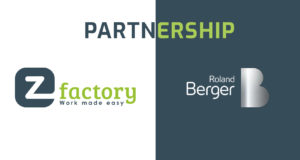 For and by operators
Founders Robert Bouwman and Randy Appiah know the industry inside-out and they saw similar problems cropping up across the board. Ranging from outdated, time-consuming practices to inefficient processes, from a lack of safety awareness to substandard quality. This simply had to be improved. Together with operators at prominent companies, they developed EZ-GO, the intuitive and visually user-friendly app that guarantees optimal safety, quality and productivity.
User-centred
Who EZ Factory's clients are? All sorts, ranging from ambitious SMEs to multinationals like Heineken and Friesland Campina. They use the app to digitize their first-line maintenance operations, making the job of operators in the workplace simpler, more pleasant and more cost-effective too. All of which is essential in today's competitive market. The users themselves are delighted. The tool eases and automates tasks. It offers options for digitising checklists and audits. It gives operators ownership and improves performance as well as work experience. As a nice bonus, it helps retain employees too.
Faith in the approach
EZ Factory made a promising launch and quickly achieved success. Strategic consultants Roland Berger provided and still provide the enterprise with support. Jeroen Althoff, Principal at Roland Berger: "We have total faith in the product and the company. Based on our knowledge and experience of the market, we're convinced that EZ-GO is a genuine boon for first-line maintenance operations, including those in production environments. The tool simplifies standardisation and improves procedures. It also increases engagement among operators and makes it easy to transfer knowledge, which is an important asset when you need to distinguish yourself from the competition."
Growth potential and credibility
Roland Berger is committed to assisting EZ Factory according to the "Tenzing" principle: targeted support for start-ups that have promising prospects for the future. "We help hone a company's strategy, vision and mission. We test ideas and set out the development trajectory. We also supervise investment missions in order to keep growth on track," says Jeroen Althoff. So, the partnership goes much further than mere financial support. "We challenge EZ Factory to fine-tune their business model, to adjust to market demand and to push the envelope just a little bit further. Most importantly, we clearly and persuasively communicate those elements that are decisive to investors. The ultimate objective: turning a great idea into a long-lasting commercial success through intensive, long-term partnerships."
Momentum
EZ Factory has managed to gain a huge amount of trust in a short amount of time. Clients are pleased with what the app offers, with the numerous benefits for operators and the pay-back time. To support further growth, EZ Factory is looking for staff including software developers. Later this year, the company will be holding another round of investments. Partnerships with third parties offering added value is also an option.
EZ Factory is headed towards a bright future, following a principle that is as simple as it is ingenious: "Making apps is simple, but making simple apps is the most difficult thing of all."
Read here more about how Roland Berger Tenzing supports start-ups in their journey to success:
https://www.rolandberger.com/en/Insights/Publications/Introducing-Tenzing-a-consultancy-for-start-ups.html